About Us
My passion for guitars began when I was in grade school. I would watch American Bandstand and similar shows on TV. I made fake guitars from cardboard using a long narrow board for a neck and fishing line for strings. No air guitars for me - I wanted something I could hang on to!
During my early teen years, I wanted the real deal. Not having much money, I purchased a used Decca 6-string. It was a terrible guitar - to play a barre chord required almost super-human strength. But I had a "real" guitar.
Never content to leave things alone, I began to tinker with it. I removed the cheesy looking, striped aluminum pick guard and made a new one out of clear plexiglass, painted black on the backside so that it wouldn't chip off. I now had a custom electric guitar!
What I really wanted, though, was a Rickenbacker in a Fireglo finish. So I did the logical thing, for me, and decided to build my own in shop class. I used birch plywood and did my best to create a semi-hollowbody replica of a Rick. I even tried to make my own neck-through design, complete with a home-made truss rod. When that didn't work out (I was only about 13 years old!), I cut it off and bolted on the neck from my Decca. It actually worked - sort of!
Over the years I played bass in a few bands, though I moved around so often that it was difficult to make much progress.
I recall an opportunity I had to buy an early 60s Fender Jazz bass for $150. But upon learning that my family was moving (again) I bought a mini bike instead. That bass would be worth a lot of money today!
Within a year or so, I bought an Aria hollow body bass and an Ampeg Portaflex amp. Our band played Steppenwolf's "The Pusher" at a high school assembly, though we did an instrumental version, assuming that singing the lyrics might get us in trouble! After a few years, I upgraded to a Gibson Grabber and a Peavey amp.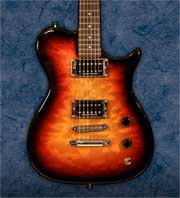 In more recent years, I've been playing an Alvarez 6-string acoustic. But the itch to build another electric guitar was lurking just under the surface. Through a contact with a local custom guitar builder, I got an Ash body blank and book-matched quilted maple for a top.
Here's a photo of the finished product - you can see I went with a traditional 3-tone sunburst.
Having a fair amount of experience spraying lacquer for another business I had, it came out great - so much so that my guitar building friend took notice and started sending me finishing jobs.
Since then, I have added a few more guitars to my collection. I have a 1998 MIM Fender Strat that I stripped and refinished in black lacquer. I added Fender locking tuners and swapped out the electronics for a Carvin loaded pickguard. Next up is a 1998 Epiphone Les Paul. I stripped this down to the bare wood and finished in a lacquer burst. I added Grover tuners, TonePros bridge and Seymour Duncan's Seth Lover pickups. Also, I recently refinished my 2000 MIJ Fender P-bass Lyte in Seafoam Green lacquer and made a white pickguard. Here they are: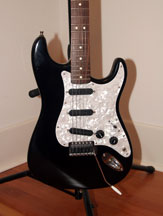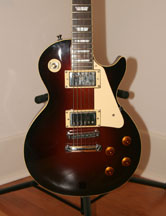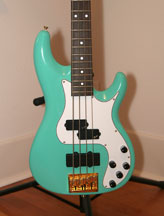 Today Knappster Guitar primarily does custom guitar builds and finish work for other custom guitar companies, but we are happy to provide our services for individual builders and players. Our focus is on vintage Fender-style finishes, though we provide a full spectrum of colors. We strive for excellent craftsmanship and customer satisfaction.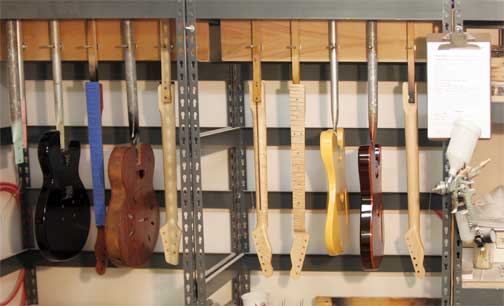 "The Rack" in my shop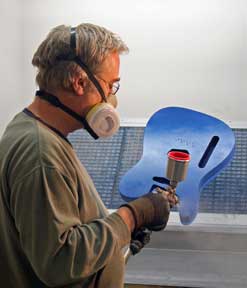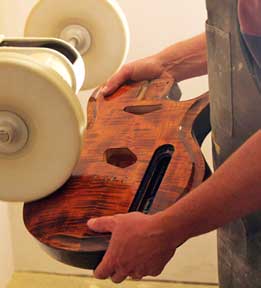 Spraying and buffing!